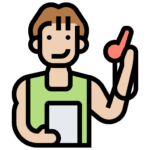 Do you need a personalized training?
Our personal trainers will prepare a training plan adapted to your goals and will guide you in each session.
Training
Whatever your goal, we offer you the best plan to achieve it.
Prepare your body for the demands of day to day and improve your quality of life.
Exercise your muscles and increase your stamina to burn calories and lose weight.
Train your body and mind to improve your strength, flexibility and concentration.
Perfect your technique and your fighting skills with our qualified personnel.
Learn the most effective techniques to defend yourself in unwanted situations.
We adapt to your objectives, so we are open to your needs.
Personal training is aimed at putting at your disposal all the technology, resources and time that our qualified professionals can offer you, in order to achieve the best results in the shortest time, and in the most effective and safe way.
The trainings are carried out in our sports center, Leo Urban Sport,where we have the best material to help you.
However, if necessary we can adapt to your needs, either through online classes or classes at home.
We have personal trainers with extensive experience in their respective fields, which will make your learning a very positive experience.
With them you can initially agree on your goals and receive a fully personalized follow-up in each training session.
We offer you a wide variety of options. Sessions can be individual, as well as for duos, trios and small groups.
In addition, it is possible to contract bonds for economic savings.